---
Episcopal Charities
Episcopal Charities 2023 Tribute Dinner
Monday, December 4th, 6:30 P.M
The Cathedral of St. John the Divine,
New York
Please join us as we honor:
THE RT. REV. ANDREW ML DIETSCHE
XVI Bishop of New York
CHARLIE GARLAND
Hamlin Capital Management, LLC
COMMUNITY JUSTICE AWARD
INTERFAITH CENTER OF NEW YORK
Accepted by The Rev. Dr. Chloe Breyer
Click the button below to learn more/buy tickets.
---
Volunteer with HIAS
Help Asylum Seekers Access Essential Services
HIAS is looking for long-term and short-term volunteers to help Asylum Seekers access Essential Services. Volunteering includes writing resumes, holding mock job interviews, building English Language Skills, fostering community, and so much more. Learn more and apply to be a volunteer by clicking the button below.
Learn More/Apply
---
Volunteer Opportunity
The Migrant Center of the Church of St. Francis of Assisi
The Migrant Center of the Church of St. Francis of Assisi, needs intake coordinators, translators, and especially legal assistance at their site, where they help asylum seekers apply for asylum.For more information or for immigration assistance or to volunteer, please contact Fr. Julian Jagudilla, O.F.M. at 212-736-8500 ext. 377 or at migrantcenter@stfrancisnyc.org.
---
Job Opportunities
Turning Point for Women and Families
Turning Point for Women and Families' mission is to help Muslim women and girls affected by domestic violence to empower themselves and transform their own lives as well as those of their families. Turning Point provides a diversified range of culturally competent services focused on safety and self-sufficiency through direct services, advocacy and referrals.
Deeply rooted in the Muslim community, Turning Point believes that social change can be effected by raising awareness about the prevalence and effects of domestic violence, addressing it directly and offering safe spaces and opportunities for youth development. Click the button below to view current job openings available.
Job Openings
---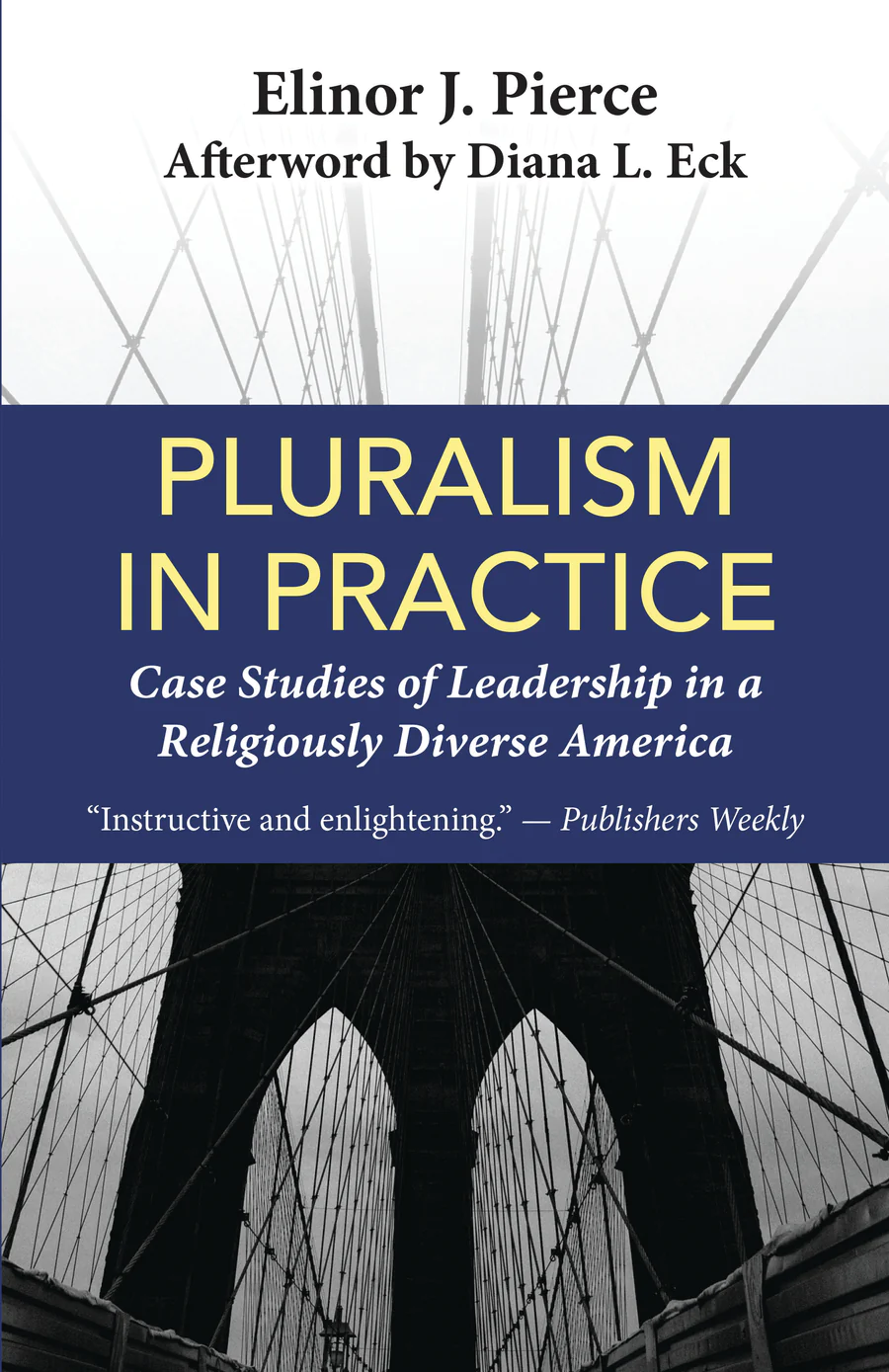 Book Release
Pluralism in Practice: Case Studies of Leadership in a Religiously Diverse America
Pluralism in Practice, a book of case studies on the dilemmas and disputes of our multireligious society, was recently published. Publishers Weekly writes: Pierce (coeditor of With the Best of Intentions), research director of the Pluralism Project at Harvard, probes the limits of religious pluralism in a dozen thought-provoking case histories from the first two decades of the 21st century. Centering each story around someone who worked to balance religious diversity with the demands of democracy, Pierce, for example, takes readers to the small town of Hamtramck, Mich., which in 2004 was seized by widespread opposition to a noise ordinance that would enable a local mosque to broadcast a daily call to prayer, requiring the mayor to delicately advocate for constitutional rights while respecting the town's Polish cultural heritage; to Queens, N.Y., where beginning in 2007 the National Park Service marshaled outreach efforts to Indo-Caribbean Hindus whose practice of casting religious offerings into Jamaica Bay violated the Service's "leave no trace" policy; and to lower Manhattan, site of the "Ground Zero Mosque" firestorm of 2010, concerning a proposed Muslim interfaith center that was never built. Cases are presented cogently and without bias, and insightful postscripts allow readers to reflect on the cases' aftermaths—often to revealing effect, as when a planner of the interfaith center linked opposition to the project to cultural undercurrents that precipitated the later "rise of extremist voices and the era of Donald Trump." Students of leadership and religious studies will find this instructive and enlightening.
Learn More/Get Book
---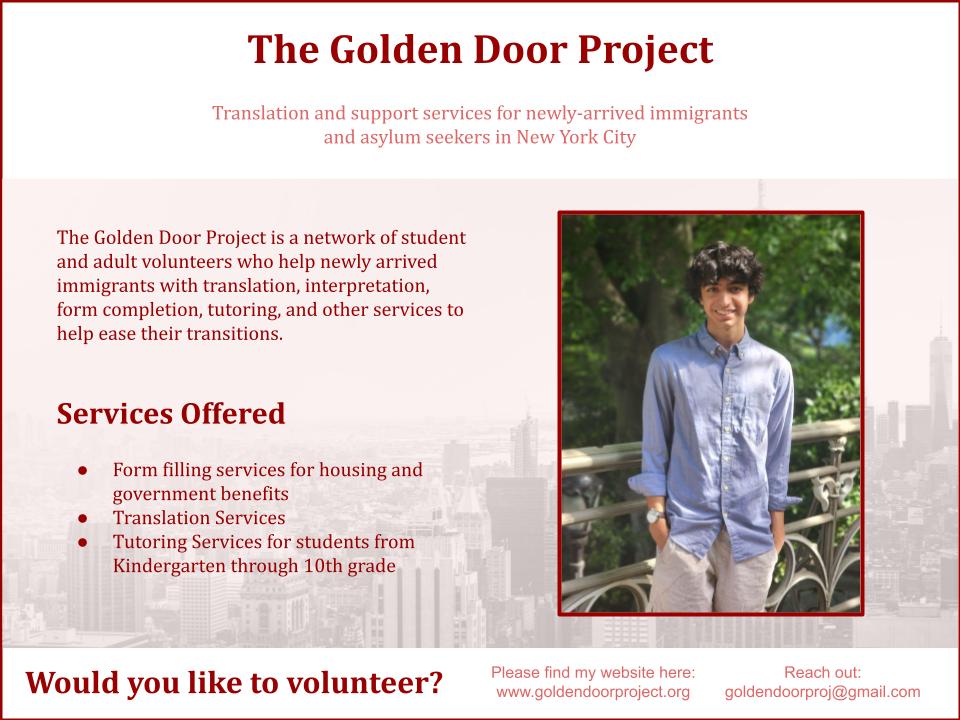 Services for Migrants
Volunteer Opportunities & Services Available
The Golden Door Project is a network of student and adult volunteers with various language skills who offer their time to help newly arrived immigrants with translation, interpretation, form completion, tutoring, and other services to help ease their transition. We have an online appointment-based system, listing all the services we offer. Volunteers can register for as many hours as they can be available online, according to their schedules, and clients can sign up for the language and type of support they seek with volunteers. As we add volunteers to our network, we hope to be able to offer a multitude of languages. If you are interested in volunteering or know anybody who may benefit from this service, click the button below to visit the website.
More Info/Website
---